Linear Actuator External type / Direct Motor Drive Ball Screws
| | |
| --- | --- |
| High performance driving units, which combines Stepping Motor and Ball Screws/Lead Screws to eliminate Coupling. Stepping Motor is mounted directly onto the end of Ball Screw/Lead Screw and Shaft is ideally constructed to form the Motor Rotor Shaft, this minimizes lost motion. To eliminate the Coupling and the compact design of total length can be achieved. | |
Standard Products
To meet customer's request of quick delivery, KSS has specified model type in stock. The travel amount will be adjustable by cutting the end of Shaft.
Customized Products
In order to meet the needs of customer's requested design, we offer customized products.
*Resin-MoBo ; Lead Screws with plastic Nuts + 2-phase Stepping Motor
| | |
| --- | --- |
| | 2-phase Stepping Motor is mounted directly onto the end of a Resin Lead Screw Shaft. MRH Nut of polyamide type Resin with good sliding properties is employed. It can be used without oil and lower noise can be achieved when sliding. Backlash is eliminated by coil spring built in the Nuts. |
MoBo Accessories
モータ直結型ボールねじ"MoBoシリーズ"の取付け用パーツを標準で設定いたしました。モータ側サポートプレート(Aタイプ、Bタイプ)と支持側ブラケット及びナットブロックの3種類で構成されています。

Assembling parts of "MoBo" Direct Motor Drive Ball Screw was set up as standard stock. Accessories consist of 3 type, Supporting Plate at the Motor side (A or B type), Bracket at the supported end and Nut Block.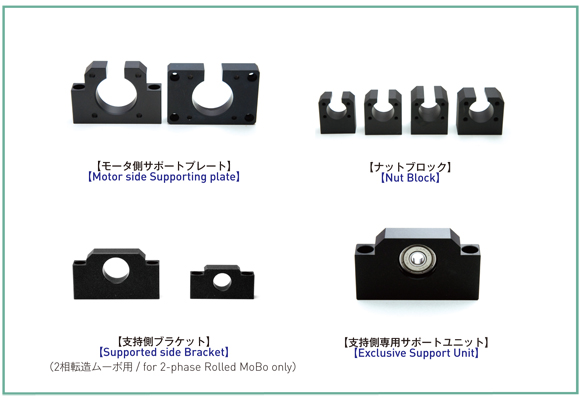 Attachments
*Driver
p>This series is the recommended Driver for Direct Motor Drive Ball Screws.You can choose suitable one based on your usage.
For details
For details
Please ask KSS about the specifications other than the above.